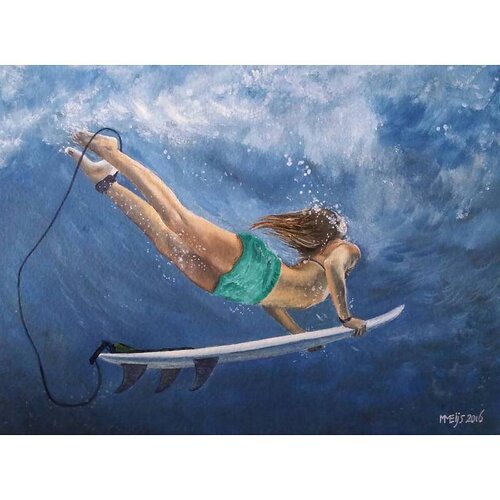 Sports & Surfart Paintings on your wall!
You love action, you love adventure and you especially love sports? Yes! Trust us, you are going to like this category! It is full of awesome Sport and SurfArt paintings that capture exactly that lifestyle - fun, nature and action! Find a unique piece of art for your home that embraces all those cool things!
Sports As An Art
Portraying sports and athletes on artworks has been a phenomenon ever since the early days. In ancient times the Greeks founded the Olympics and worshipped their athletes as heroes. They created sculptures and paintings about them, displaying them in the most powerful, disciplined and heroic way. It became part of culture to show the purity of the human body and sports in general. Until today sports art is about our favourite stars and worldclass athletes. Those people that manage the unbelievable, break records and fight until the end. The sports art in our gallery will inspire you in exactly that way! And instead of sticking a wrinkled poster on your wall you can now get an actual piece of art! Sport art paintings will be the perfect add-on to your living room, gym, hobby area, kids room or anywhere you wish! Bring the adventure and action straight into your everyday life!
A Special kind of Sports Art: Surfart!
Surfart paintings depict everything around the unforgettable feeling of riding waves! Many say this type of painting evolved from the history of marine painting. These often showed lighthouses or coastal scenes. In the 20th century, when surfing emerged as a popular sport, artists started capturing this in their artworks. However, Surfart is more than that. For many it is an artistic expression. Surfart paintings portray a lifestyle! It is all about being on the beach, feeling the sand between your toes, the hot sun in your face and the water splashing up from underneath your surf board. When browsing through our gallery you will feel the positive energy each of the surf art paintings displays. Looking at surfart paintings will instantly put you in that holiday state-of-mind!
Sport & Surfart Paintings at accessART
At accessART we are absolutely in love with Sports and SurfArt paintings! The colors, the warmth, the fun - all things we like to look at in our home! The Sport and Surf Art paintings were inspired by the surf culture from all different parts of the world - from Australia to Holland and Denmark!
All paintings were created using various techniques. You will find airbrush on paper, limited edition prints on cotton over paper as well as acrylic paintings - something to complement your style and the interior of your house! All artworks displayed in this category include information on prize, size and shipping details. You can also easily find out more about the background stories of our artists and their art in the artist's profile section. Enjoy browsing our this exciting gallery on Sports and Surfart paintings!